Founder Members
Introduction
In 1984 four GCSE students contacted the late Bryan Walters who had recently moved into the area. They originally were looking for help to understand archaeological sites and some additional tuition to ensure they passed their exams. From this small group grew the Archaeological Research Section of the Forest of Dean Local History Society. In September 1987, they formally became the Dean Archaeological Group, a registered charity.
The aims and objectives of this group were 'discovering, recording and conserving the past between the Severn and Wye'. The first committee consisted of John Pullinger (Chairman), Derek Knight (Treasurer), Leslie Walker (Secretary) and the Committee were Audrey Carman, Bryan Walters (Director of Archaeological Operations), Joyce Pullinger, Terry Jones, Terry James and Mark Walters. The President was Dr Graham Walker, OBE, MA, PhD, FSA, AMFIA.
Apart from work on the temple site at Lydney Park by Sir Mortimer Wheeler and Dr. C Scott-Garrett, the villas at Boughspring and the identification of scowles at Bream and Cinderford, archaeological knowledge of the Forest of Dean was sparse compared to the rest of Gloucestershire. All that changed with the dedication and untiring work of Bryan Walters and Alf Webb.
In memory of Bryan and Alf two 'finds' display cases have already been installed at the Dean Heritage Centre but the Committee, headed by the present Director Phil Riches, wish to pay tribute to these two remarkable men by placing on record a little of their life and achievements.
Marlene Wilkinson
July 2019
Bryan Walters, M.Phil 1937-2001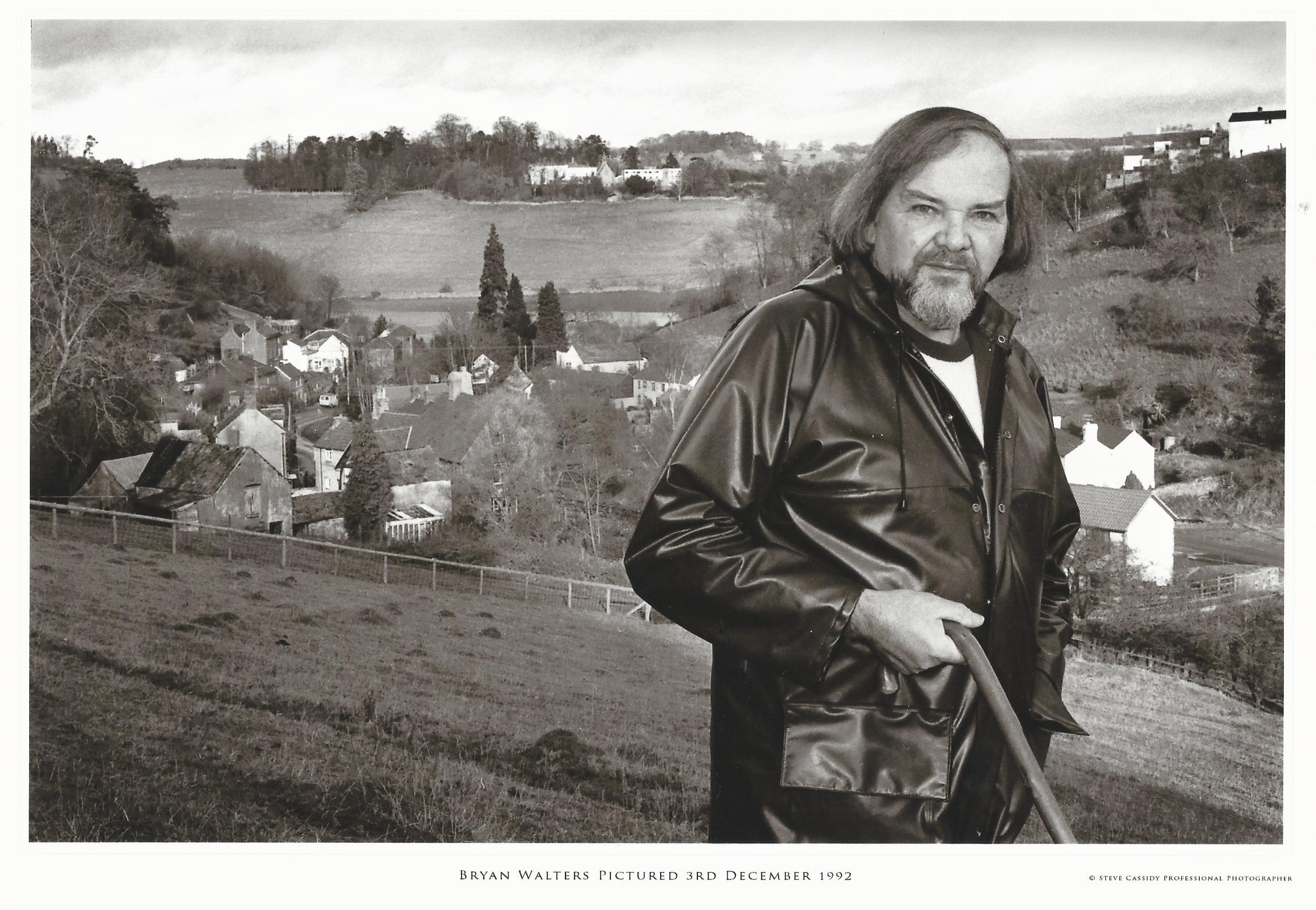 Born in Tipton, West Midlands with his early life largely influenced by the Jehovah's Witness religion he spent eight years as a circuit minister before breaking free from the group. He then took to photography and writing poetry, and became a Tutor in Poetry at Wolverhampton, and then Dudley as an Audio Visual Aids Advisor.
His publishing debut was in 1972 with Between Dawns, other books followed with his last, Prehistoric Forest, in 1988. He also collaborated with other poets and musicians including Aeronwy Thomas Ellis, the daughter of Dylan Thomas, and together they presented an evening of poetry in the White House to President Jimmy Carter.
He moved to Cardiganshire in 1973, and then to Scotland with his children setting up a successful goat herd, but still travelling to Australia, Malaysia, USA and Europe presenting his poetry.
In 1983 he moved to Littledean and then to the Old Post Office, Lower Lydbrook, where he rekindled an earlier interest in Roman Archaeology. His son Mark, whose career is now in Archaeology, remembers this as a very happy time field walking and finding unknown pre-historic and Roman sites. At this time, Bryan was teaching O Level Archeology at Five Acres College, and then because only a few students wanted to go on to A Level he obtained permission to do this at his home.
He was very much the guiding light in the setting up of Dean Archaeological Group and became the first Director of Archeology. Wanting to bring the Group to public notice both he and Alf Webb organised the highly successful 'Year of the Romans' with a great number of events taking place, also the publication of Roman Dean and his discovery of the late Iron Age enclosures at Ariconium. Awards followed with the Lloyds Bank Award (which helped the group to obtain a considerable amount of survey equipment) and then the prestigious Pitt-Rivers award.
With knowledge gained from field walking and other sources, he decided to work on a book to supplement and add to the information contained in Dr Cyril Hart's 1967 book 'Archaeology in Dean' and published 'The Archaeology and History in Ancient Dean and the Wye Valley'. Dr Hart credited Bryan 'for making available the enormous amount of relevant archaeological information – based largely on practical work', he concluded that 'for many years ahead it will be the standard source for the study of archaeology of the two regions'.
Bryan then set about the huge task of researching and writing 'The Forest of Dean Iron Industry 1st to 4th Centuries AD'. Unfortunately failing health and a stroke took him away from The Old Post Office into a care home but he had the satisfaction of seeing his work published and his goal achieved.
Marlene Wilkinson
April 2019
Dr Alf Webb F.R.A.I.(L) 1924-2011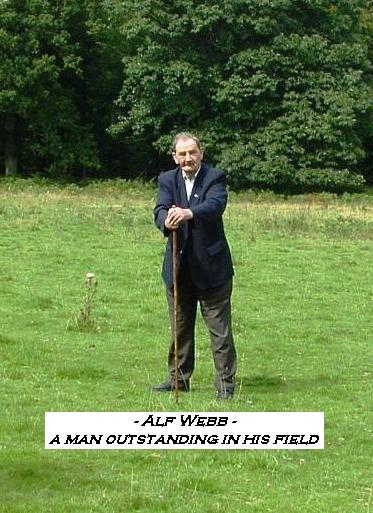 His retirement gave Alf time for some 'relaxation', this was when his interest in archeology really took off. He had volunteered for work on the excavation of the Roskilde Viking Ship in 1990 and was awarded an Honorary Award from the University of Copenhagen for his work researching 10th and 11th century bows. He later joined the East Herts Archaeological Society gaining a Diploma in Archaeology for his work on the Mary Rose, for devising a way of enclosing the bows when brought to the surface to mimic the conditions they were found in. He found adding FRAI(L) to his name quite amusing, it was awarded from the Fellowship of the Royal Anthropological Institute of London for his work on the Hunter-Gatherer Communities of the world.
Then he became a microlight pilot at the age of 68, despite being 'blown' out of the skies during the war, a love of flying still held that extra special thrill.
Being a Member of the Society of Archer Antiquaries and editor of their newsletter Arrowhead, he came to the notice of Chinese Archaeologists working on the Terracotta Army and devised a safety device for the crossbow wielding figures.
When he moved to the Forest he was invited to join the Dean Archaeological Group by Bryan Walters, serving in different roles, and became DAG's President in 2001. After Bryan's death he became the driving force behind the group and wrote or encouraged others to write occasional publications on various periods in the history of his 'adopted home'.
Refusing to have a TV in his house, Alf ran the 'Ologies' group for the U3A and was assisted by his close friends/drivers Ruth Hirst and Anna Nowoskielski to log and photograph the sites of such as Deserted Villages, Named Wells, and Barns in West Gloucestershire.
In 2003 Alf's war time undercover name of Spider Smythe emerged again when he wrote 'A Strange War: A Biography of Survival – One Man's War'. These exploits are too long to go into but what he termed as his 'One Abiding Love', that of archery, ran like a thread through the story of his life – a total passion. He had become 'All Boys Archery Champion', but age 14 he got into trouble with the law for poaching rabbits so he decided to run away from home, he lied about his age and joined the merchant navy. At 18 he joined the army and became one of Captain David Stirling's recruits, the formation of what would become the SAS. On a mission in the Kalahari he fashioned a rough bow together with some arrows and shot a deer for food – his poaching experience came to the fore. Somehow he survived and became a military aide to King Zog of Albania but whilst flying gliders into the country on a Red Cross mission he was shot down, his only luck was that he fell clear of the German-held area. He was found by partisans and taken to a small hospital and eventually onto Stoke Mandeville where the job of rebuilding his terribly smashed body took place. Here the staff encouraged this frustrated young man to take up archery from his wheelchair. and it gave him something to focus on and eventually helped his recovery. He later started coaching disabled youngsters in archery.
After a very long recuperation and in between hospital visits he trained with the GPO, it was September 1951 when he met and married his onetime nurse but after only 18 months his wife, Vi, died of cancer. He needed to get away from painful memories and the public stare of his re-built face. Finally a GPO Counsellor persuaded him to take overseas contracts before he went 'over the edge'. The next 30 years saw him visiting countries all over the world.
In time he decided to catch up on his education and obtained a Full Tele-Communication Certificate. Then taking advantage of the knowledge his constant travels overseas had given him he took a Diploma in Anthropology with Manchester University, then a Certificate in Ethnology and Ethnographics.
Born in a small lock-keepers cottage on the River Lea and because of his father's ill health Alf learnt to operate the lock-gates from a young age. He was the eldest of seven brothers and eight sisters named in alphabetical order, all with three letter names. He realised from any early age that his family was poor, education had been low on the list to putting food on the table so he did his bit and that included poaching from the big estate. His education had come much later after a lifetime of experience.
His friend Hugh Soar of Archer Antiquaries summed up Alf so well saying that 'His capacity for survival was equalled only by his unrelenting search for knowledge.'
Marlene Wilkinson
Nov 2018